低侵襲形成美容外科国際シンポジウム、タイ 2011/04/23~24
【招待講演3演題】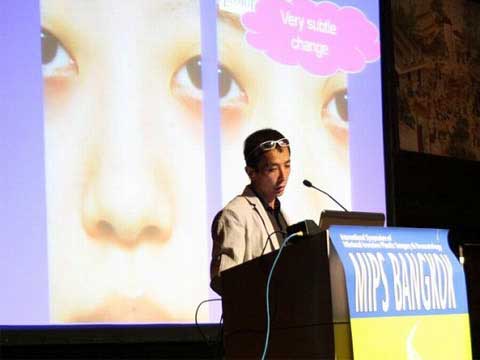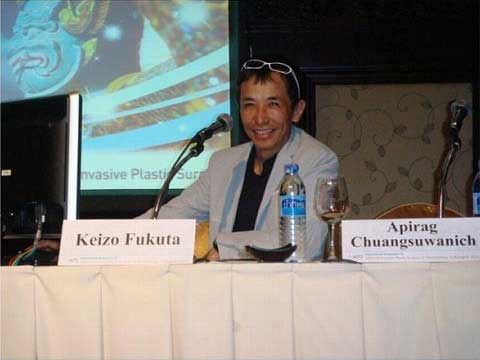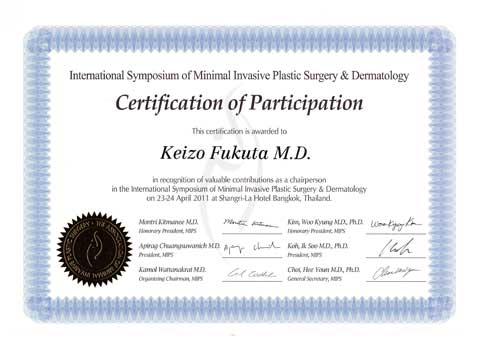 【1】Medial epicanthoplasty; comparison of Z plasty and skin redraping method
Keizo Fukuta, M.D.
Verite clinic, Tokyo Japan
This study was conducted in order to clarify the pros and cons of two different methods of medial epicanthoplasty.
One is root Z plasty and the other is skin redraping method.
The Z plasty was performed in 38 cases and the skin redraping was used in 32 cases for last 2 years.
The results was retrospectively evaluated using clinical photographs and clinical charts in terms of development of hypertrophic scar, final appearance of scar, shape of medial canthus, shape of double fold ( in-fold or out-fold) and request for revision surgery.
3 cases in Z plasty group complained of vertical scar lying in the infero-medial area of the medial canthal region (figure 3-01).
The postoperative scar was less visible in skin redrping group (figure 3-02).None of redraping group complained of final scar.
3 cases of redraping group showed hypertrophy of the scar 1 month after surgery (figure 3-03), which settled in 3 months.
3 cases of redraping group requested revision surgery to reduce the remaining epicanthal fold.
6 cases of redraping group develops in-fold type of double fold although creation of out-fold type was planned for them (figure 3-02).
This study has shown that the skin redraping method makes a scar in the less visible area than the Z plasty.
The redraping has smaller effect to release the vertical skin tension of the epicanthal fold, therefore, this method tends to create in-fold type of double fold.
The Z plasty is more reliable for creating out-fold type of double fold.
Figure 3-01

Figure 3-02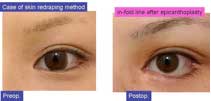 Figure 3-03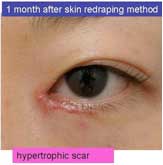 【2】correction of bulbous tip; management of skin envelop
Keizo Fukuta, M.D.
Verite clinic, Tokyo Japan
A common request for tip plasty in Orientals is making the tip width narrow in the front view.
The primary approach for reduction tip plasty is the modification of cartilage frame that is bilateral alar cartilages.
The nasal skin in many of Oriental patients, however, is thick and inelastic, providing poor redraping after reduction rhinoplasty.
Excess of thick skin and soft tissue develops fullness at the supratip region, which is called Polly beak deformity.
The manipulation of cartilage frame alone is not enough in some cases.
We have used direct skin excision in a spindle shape over the supratip bulkiness in order to correct Polly beak deformity due to previous tip plasty (figure 2-01).
The spindle skin excision was also applied in primary cases who request reduction tip plasty. A problem concerned after this method is a postoperative scar on the nasal dorsum (figure 2-02).
15 Japanese patients were treated with the direct excision.
The scar became inconspicuous in 5 cases without further treatment and in 10 cases after CO2 laser abrasion (figure 2-03).
Figure 2-01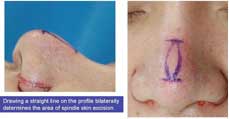 Figure 2-02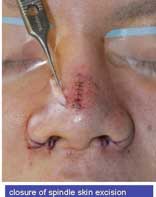 Figure 2-03

Figure 2-04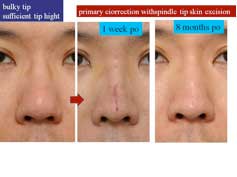 【3】correction of bulbous tip; management of cartilage frame
Keizo Fukuta, M.D.
Verite clinic, Tokyo Japan
A common request for tip correction in Oriental rhinoplasty is making a broad and round contour of the nasal tip narrow and sharp in the front view.
The operative technique described for reduction tip plasty is excision of subcutaneous fat overt he lateral crura and between the middle crura and inter-domal suture with or without tip only graft.
This combined procedure may be effective to make the interdomal distance small.
However, wide separation of bilateral middle crura is not a common problem in Orientals.
In fact, my experiences showed that the above mentioned procedure made very subtle change on the front view.
Thus, the approximation of bilateral alar cartilages at domal region is not effective to correct bulbous tip.
The broadest portion of the tip is far above the domal area and between upper 1/3 and upper 1/2 of the lateral crus in most of bulbous tip patients.
It is therefore important to approximate the bilateral lateral crura from the domal area to upper 1/2 or upper 1/3 along the cephalic margin (fig. 1-01).
The suture will bring the bilateral lateral crura closer to each other and convert the convex surface of the crus to flat or concave surface (fig. 1-02).
The onlay cartilage graft (shield graft) from the ear will be used depending on the requested tip projection.
My experiences have shown that the approximation of bilateral lateral crura along the cephalic margin was effective to make the round tip contour narrow and smart (fig 1-03).
Figure 1-01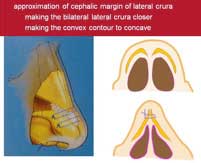 Figure 1-02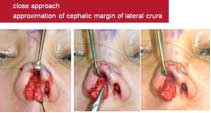 Figure 1-03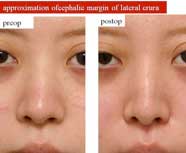 Figure 1-04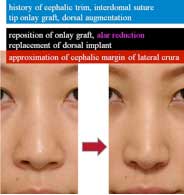 Figure 1-05